Discover more from More Beautiful Than Necessary with Tresta Payne
A newsletter about truth, goodness, and beauty.
Make Up Your Mind || Issue 10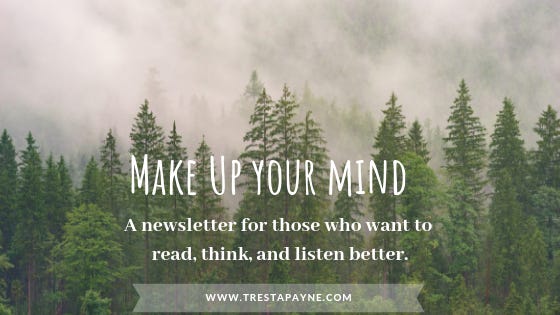 On Vacation
On vacation I am not my best self. I leave behind all my healthy routines, and the things that help me function and feel good are the first to go when our bags are packed and the car is packed and the schedule is not. I let go of solitude. I don't stretch or exercise like normal. I eat vacation food. I always pack an inordinate amount of books I don't read, paper I don't write on, and cards I don't play with my family. I go to bed early and sleep late, and then wake up feeling crummy, puffy from too much sleep and salt.

On vacation I realize how much I depend on the order and routine of home. I am fragile, and it doesn't take much to upset my equilibrium. I am complaining about the luxury of vacation, I know.  But why is it a luxury to let go of my good habits? Why is it that vacation means vacating all the parts of my everyday life? Even the good parts? I think I should be able to enjoy a vacation with my family and still maintain some discipline, but maybe I'm expecting too much.

Though I'm complaining about my lack of discipline and all the sitting, eating, driving, and sleeping we did on vacation, it was a beautiful trip through Idaho, to Yellowstone for a few days, and onwards to visit my dad and stepmom in their brand new home overlooking Flathead Lake. I love the Pacific Northwest but I'm delighted to report that the deserts of Idaho and plains of Montana are also astoundingly pretty. I commiserated with my dad that they had to endure such alpine meadows flush with wildflowers, flanked by the towering Mission Mountains, overlooking a glass lake. 

On vacation I let go of good habits but I am happy to find they were all waiting for me when I returned. I took them up again, slowly, stretching my way back into all the goodness of home and picking up loose ends left waiting: bills, work, errands, and appointments. 

One of the most encouraging discoveries of our trip was finding that people are really nice here. Home does not have a monopoly on goodness. I dreamed a little of the kingdom come, the holy touching down, the forever love of Christ reigning along the Madison River and the Rocky Mountains. On vacation it's easier to see ourselves as relocated, strangers but still welcomed, and I have in my mind all the goodness of familiar places intermingled with the excitement of somewhere new, complete with new habits and routines. I want to find this place where the two meet. 

How do you vacation well, without losing all your good habits and routines? I'm thinking we need a couple weekend trips this summer so I can practice the discipline of being a Good Vacationer.
WHAT I READ, LISTENED TO, AND WATCHED


BOOKS::
Blue Horses: Poems by Mary Oliver
This was a birthday gift from my youngest son (with help from his sisters), which makes it special in and of itself. My favorite lines from the collection come from the poem Drifting: I was enjoying everything: the rain, the path
     wherever it was taking me, the earth roots
beginning to stir.
I didn't intend to start thinking about God, 
     it just happened.
A Three Dog Life by Abigail Thomas
I listened to this audiobook in one day, puttering around the house doing chores, going for a walk, choking back tears. Thomas shares honestly about how she dealt with her husband's sudden traumatic brain injury that left him with no memories, prone to rages and hallucinations, and in the care of an institution for the rest of his life. She maintains a faithful and beautiful relationship with him, collecting wisdom from his random but profound insights. This was such a good book, and narrated by the author, which I always love.

The Art of the Essay by Charity Singleton Craig
Essay: to try
This was an easy to read and apply book on writing essays, full of encouragements to be a good observer and collector. Craig says, "Living with an awareness of the world creates a structure for writing that's sturdier and more beautiful than pulling from abstract ideas alone. Before I ever introduce a topic to my audience, I meet it in real life." She encourages us to read, listen, watch—to pay attention. 

Eight Whopping Lies and Other Stories of Bruised Grace by Brian Doyle
A witty and enjoyable collection of essays. I didn't know Doyle was from Oregon until after I listened to this audiobook, but I definitely recognized that one of the essays was about the shooting at the community college my kids attend. Doyle writes about family in a way that makes you want him to be in yours, and I look forward to reading more from him.

ARTICLES::
How God's Glory Shines in our Connectedness to Nature by Liz Charlotte Grant at Christianity Today
Sitting Till Bedtime by Blake Mayes
Weeds by Jennifer Monroe
In Search of Lost Time by Mary Laura Philpott

TO WATCH::
James Corden and The Muppets
This is all I got, but it's good for a little Muppet sing-along nostalgia ; )
TO LISTEN::
Verity by Phylicia Masonheimer
I've just started listening to this podcast but it's a refreshing primer on church history and discipleship. 
Jen Pollock Michel on The Stories Between Us podcast, with Shawn Smucker and Maile Silva. 
WHAT I WROTE

I have slowed down my pace on the blog and I'm considering some minor adjustments in that space which would hopefully allow me to concentrate on longer form writing. Since you are a newsletter subscriber, I'll give you the inside scoop: I'm working on a book, and writing a book takes a whole other level of discipline! I don't have an agent or a publisher or a deadline—if you're not familiar with the publishing industry, my small following is not worth the risk of investment from the Big Guys ; ) So I'm taking the slow and natural way to a book and getting some help along the way (I highly recommend a writing intensive with Callie Feyen if you are book-inclined).
Anyways. The blog will probably be limited to one post a month for now.
In June I wrote, "Isolation affects my hearing and vision. I live far-removed from startling figures and much of the ugliness of the world, and stepping back in was hard but necessary, not only for the cut and color, but for the reminder of my place. I live in a world where words are used to control as much as to communicate, to keep in place as much as to put in place the just and right things. Words are powerful." ~ Overheard at the Salon
 
5 THINGS:
My neck feels 10x better since I started sleeping with no pillow. 

I have conditioned the wild birds that come to the feeder to be little foodies. They only like black oil sunflower seeds, and are very put out about the switch to a song bird mix. They are spoiled, as my son pointed out: "They are literally standing in food."

If I don't have one, I can never have too many. Cookies, doughnuts, bowls of ice cream, buttery biscuits. Self-control is a bummer sometimes.

My garden has way more room for flowers than I've ever given it credit for. This year I stuffed it full and so far, so good.

Old people wear ugly shoes because they are the most comfortable. Someone needs to fix this and also I guess I'm old now.
Happy July, friends. I appreciate your readership and notes in my inbox. May July be a month of restored hope for you—in Christ and in the humanity He redeems.
Thanks for reading, friends. 
You can reply to this email or find me on Instagram and tell me what you're reading, watching, listening to, and enjoying. What are you learning about simplifying in this particular season?
I love to hear your ideas.