Discover more from More Beautiful Than Necessary
A newsletter about truth, goodness, and beauty.
Make Up Your Mind || July 2019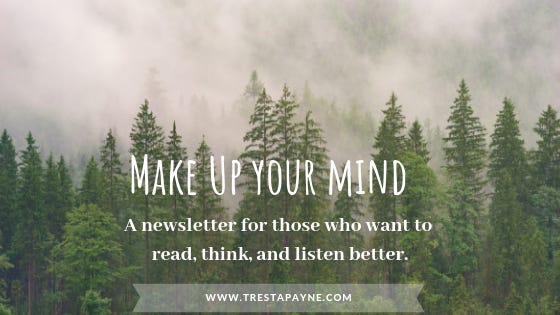 The Rest.
Sunday at church our pastor asked for a show of hands from those in the congregation who routinely slept 7-9 hours a night. Only a few people (out of a couple hundred) raised their hands, but two of them were my husband and I. I told him later how good it felt to raise my hand without shame, and how it was even better that both of us did, without prior discussion. I'm trying to change the culture around me by exalting rest and peace, rather than stress and busyness, and I was happy to see my husband in the same boat with me. 
I'm tired, ironically, of hearing how tired we all are. 

We had a potluck after church and I asked the person in line ahead of us how he was doing, working hard to make meaningful small talk out of this cliched question. Tired and busy, he said gruffly. Better go home and work on getting those 7 hours! I replied, trying to be cheerful and see if his mood was only cursory. I'm not great at small talk and I wish I had a sign that said "I'm trying! Give me a break," but no breaks were given. Not a chance, was all he said in return. The conversation ended before we got to the hotdogs and burgers.

Someone we know just returned from visiting Cuba and he shared that the menfolk spend a lot of time sitting around, visiting one another and telling stories. Men in America don't do this, he told them. Their response was to laugh and say that men in America had so many other things to do, they didn't have time to sit and visit. But in their country, men had nothing else. I'm assuming he was commenting on our extra-curriculars; the unemployment rate in the U.S. is over twice that of Cuba. It's not necessarily our work that keeps us busy, but our pastimes and obligations outside of work. The things that are supposed to give us rest can often be the obligations that rob us. 

Raising my hand to a full 7-9 hours of sleep may not be counter-cultural enough to change the world, but I can change my own mind about what makes a good life. I can decide that I will delight in my rest, rather than my busyness. I can remind myself that my life is full of good things I've chosen and good things that have been chosen for me. I will give you rest, Jesus declared, so maybe if we're overworked, overplayed, over-tired and stressed...we're really under-connected to Jesus, the source of our rest? 

Now onto the links...
WHAT I READ, LISTENED TO, AND WATCHED
Here is the updated link to my Evernote file, where I track my goals and progress in my made-up Homeschool MFA. What is a Homeschool MFA? Read more here.

I am the last one to hop on the YouTube bandwagon but it is fueling my Homeschool MFA process, for sure. I am watching everything from art journal videos and exercise channels to kintsugi documentaries and this interview with the late Eugene Peterson...it's great. What a world we live in.

Tell me your favorite YouTube channels!

BOOKS::
The Common Rule by Justin Whitmel Earley
Subtitled: Habits of purpose for an age of distraction. Yes, please. This is one of those books that has seeped into my being without my even realizing it. As I went back through it to make notes for this newsletter, I realized how much of my current thinking and writing has come from Earley's work in this book. Yes, it's similar to other books on the topic, but it's gentle and spiritual and simple. 
Some quotes that make me shout amen (quietly, in my head): 
"...do more meaningful things by doing fewer things."

Speaking of forming new habits and the inevitable failures that will come: "The pattern, not the anomaly, is the key."

"Regardless of whether you live in a house with family, with friends, or alone, your household is not just a place where you spend a lot of your time. It's a place of formation. For that reason, generations of Christians have described the household as 'a school of love.' The point of that phrase is to emphasize that most of the intangible things that make life worth living are learned at home. Or not."

"The smartphone is a tool that enables many things, but it will never multiply our presence." Yes! Down with multi-tasking!

"We become what or who we reflect, which is to say we become what we pay attention to."

On developing the habit of curation in our media intake: "The good life doesn't come from the ability to choose anything and everything; the good life comes from the ability to choose good things by setting limits."
Earley's book has an epilogue titled "On Failure and Beauty" and that right there is enough for me. I remember thinking as I read the book that it wasn't necessarily great writing, but it is honest and helpful and full of straightforward ideas and real examples from the author's life. And those things do make for a beautiful book.

Two tangible changes in my life: because of his chapter on curating media, and also the example of my friend Tonia who jumped off Instagram for good (literally. for good.), I removed Instagram from my phone and installed it on my iPad. This lasted almost two weeks. I decided to put it back on my phone but bury it many-layers-deep so it's not easy to get to, because I use an app called Later to schedule posts sometimes and I couldn't use it without the IG app on my phone. But I've made a rule for myself that when I'm home (which is most of the time) and I want to scroll IG, I do it on the iPad. This means I sit down for it, make it a thing, don't apologize for it, and notice how long I am on the app. The phone app is for posting. The iPad is for viewing.

The other change is daily prayer, and yes, I'm using an app for that. The first habit Earley suggests is "Kneeling Prayer at Morning, Midday, and Bedtime." I use The Daily Prayer App and set it to remind me three times a day, even if I don't use the prescribed prayers or scripture readings every time.

Liturgy of the Ordinary by Tish Harrison Warren
This was a great companion to The Common Rule, which was an accidental discovery. The subtitle is "Sacred Practices in Everyday Life", and it is full of funny and beautiful reminders that there really is no separation between the secular and the sacred. 
"When suffering is sharp and profound, I expect and believe that God will meet me in its midst. But in the struggles of my average day I somehow feel I have a right to be annoyed."

"I need rituals that encourage me to embrace what is repetitive, ancient, and quiet. But what I crave is novelty and stimulation." 

"The crucible of our formation is in the monotony of our daily routines." 

ARTICLES::
The God Who Asks by Helena Sorensen 
Isn't it fascinating that an omniscient God, the God who knows us inside and out, should be so determined to ask questions? Turn to any passage of Scripture, Old Testament or New, and there's a good chance you'll catch him in the act. In the gospels, for example, Jesus is always walking up to someone with an obvious malady, an obvious need, and asking, "What do you want?" He makes no assumptions. Whatever information he's gained through observation or revelation, he never misses an opportunity to ask a good question. Jesus honors the suffering people he encounters by allowing them to voice their feelings and desires. In person. Face to face. He is relentless in his pursuit of genuine relationship.

To Settle by Andrea Lucado
Setting down roots is not for the faint of heart and maybe it's time we stop idealizing going and start appreciating the hard beauty of staying.

Meet the residents of a Norwegian Island who want to kill time—literally @ NPR
So when I went back to NPR to find the link to this article for you, there was this note from the publisher: We got duped. After this story was published, a press official for the Embassy of Norway in Washington, D.C. contacted NPR to let us know that the campaign by residents on the Norwegian island of Sommaroy to do away with timekeeping was "a well-planned PR stunt aimed at getting more tourists to northern Norway." 

Super bummer. But I'm including it anyway because it's interesting and made me think, again, about how we view life in regards to time. It reminded me of something I've read before, maybe here, about the sleep patterns of people hundreds of years ago. Who says sleeping eight straight hours at night is normal?

Practicing the Present by John Koessler
An interesting take on getting out of your comfort zone...
The other day a friend asked me, "What are you doing to challenge yourself?" "Nothing," I replied. "I don't believe in it." He thought I was joking. If I was joking, it was only a little. I don't believe in the theology which says that God's chief aim for us is to move us out of our comfort zone. I think His purpose for us lies in the opposite direction.

Bring Out Your Blogs @ disquiet.com
(I think I found this one via Austin Kleon. This isn't a site I would normally find myself reading but his thoughts on blogging are really good.)
Self-publishing is at the heart of the healthy internet.

When you blog you make decisions about what you're writing. I believe that "why" should precede "what." I believe that exploring ideas is a good reason to blog. Also sharing experience and asking questions.

And don't concern yourself with whether or not you "write." Don't leave writing to writers. Don't delegate your area of interest and knowledge to people with stronger rhetorical resources. You'll find your voice as you make your way. There is, however, one thing to learn from writers that non-writers don't always understand. Most writers don't write to express what they think. They write to figure out what they think. Writing is a process of discovery. Blogging is an essential tool toward meditating over an extended period of time on a subject you consider to be important.

Following the River by Kortney Garrison
Kortney is queen of curating good things and arranging all of life poetically. This post is encouraging if you're a creator who feels stuck sometimes.

it is time tho by Eric Roller
READ THIS POEM. Eric captures the letting-go of parenthood, and you just need to read this.

Art as Survival: The Terezin Concentration Camp by Peggy Rosenthal
The concert was called Music from Terezín Concentration Camp. I'm ashamed to admit that I hadn't heard of the Terezín Camp. But from the program notes, I quickly learned the basics: that the Nazis established this camp in 1941, in the Czech town of Terezín, to house European Jews mostly from prominent families. Among the prisoners were gifted musicians, composers, visual artists, and writers. They were permitted to practice their arts — and later even encouraged to do so, when the Nazis realized that Terezín could become a propaganda show-place.

TO WATCH:: Two movie recommendations this month!
This Beautiful Fantastic on Amazon. This one was quirky and fun; made me want to both work in a library and tame a wild garden. (Thanks for the recommendation, Beth!)
Yesterday, in theaters. Two thumbs up, but definite language warning. I left the theater smiling and happy, and sometimes you just need a movie like that. I loved it.

TO LISTEN::
My favorite podcast-listen this past month has been Speaking With Joy, from Joy Clarkson. She's helping me understand Chesterton's Orthodoxy, so I love her for that. 

This was a good interview with Callie Feyen on Teaching Shakespeare, at Libromania.

Jonathon Rogers has a great series of author interviews, including this one with Doug McKelvey and this one with Helena Sorensen.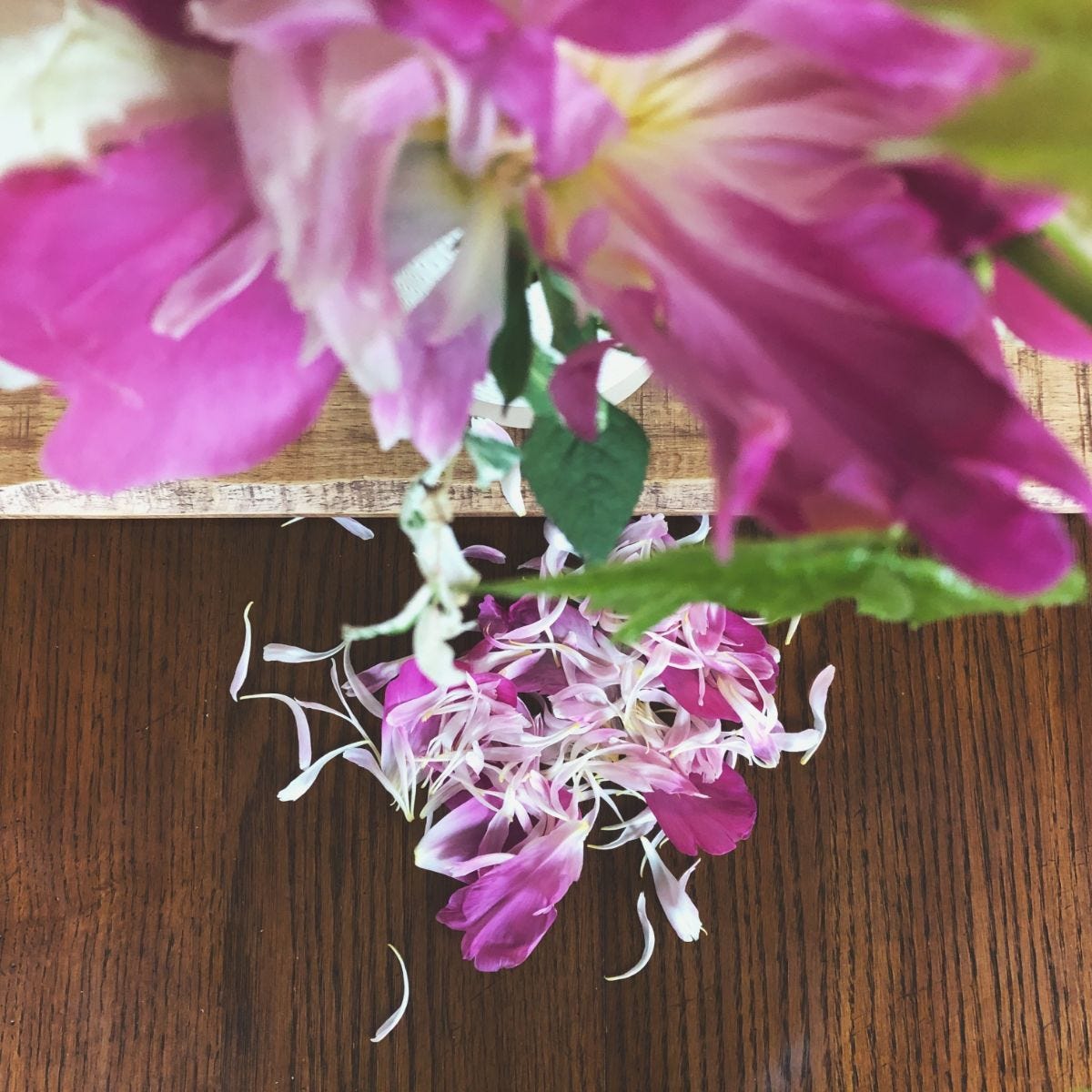 WHAT I WROTE
Time and the Peonies—...my mind forgets what my spirit knows: time stretches to fit every good thing and we can choose to have the time.

Irony, an Instagram poem
A bush—
not burning.
Buzzing and busy with bush-being,
with bumble bees
and honeyed wings
and all manner of humble things.
A bush not burning.

A voice—
not speaking.
Signing and singing with silent-being,
with sonnets
and wild geese
and galaxies of spinning things.
A voice not speaking.

A poem—
not finished
I had big plans for summer and I'm guessing you probably did, too. I know it's not over yet but it rained the other day and I felt fall creeping in, with its new schedule and new ways to be busy. My MFA plans have not taken the shape I thought they would this summer but my friend Tonia reminded me of something last week: as creative people made in the image of a creative God, even our seasons of apparent dormancy are growing, storing, cultivating something in us, something that will be revealed at the right time. 
My goals for the next month include submitting some writing to two publications and posting at least once to the Online Space I own ; ), as well as honing my outline on a bigger project in the works. I will move into my fall schedule in August, with volleyball starting in full force and a new year of tutoring beginning early September. I'll be in two communities this year for Classical Conversations, and neither of them are close by; we'll only have one last child in sports and homeschooling; my husband is in full-swing with building projects; so I'm mentally preparing for the How are you doing? questions with this answer: Our life is full of good things we've chosen, interspersed with some hard things Jesus is giving us grace for. 
Enjoy the rest of July, friends. Keep reading, keep writing, keep making the world a more lovely place with your whole self in it.
Thanks for reading, friends. 
You can reply to this email or find me on Instagram and tell me what you're reading, watching, listening to, and enjoying. What are you learning about simplifying in this particular season?
I love to hear your ideas.